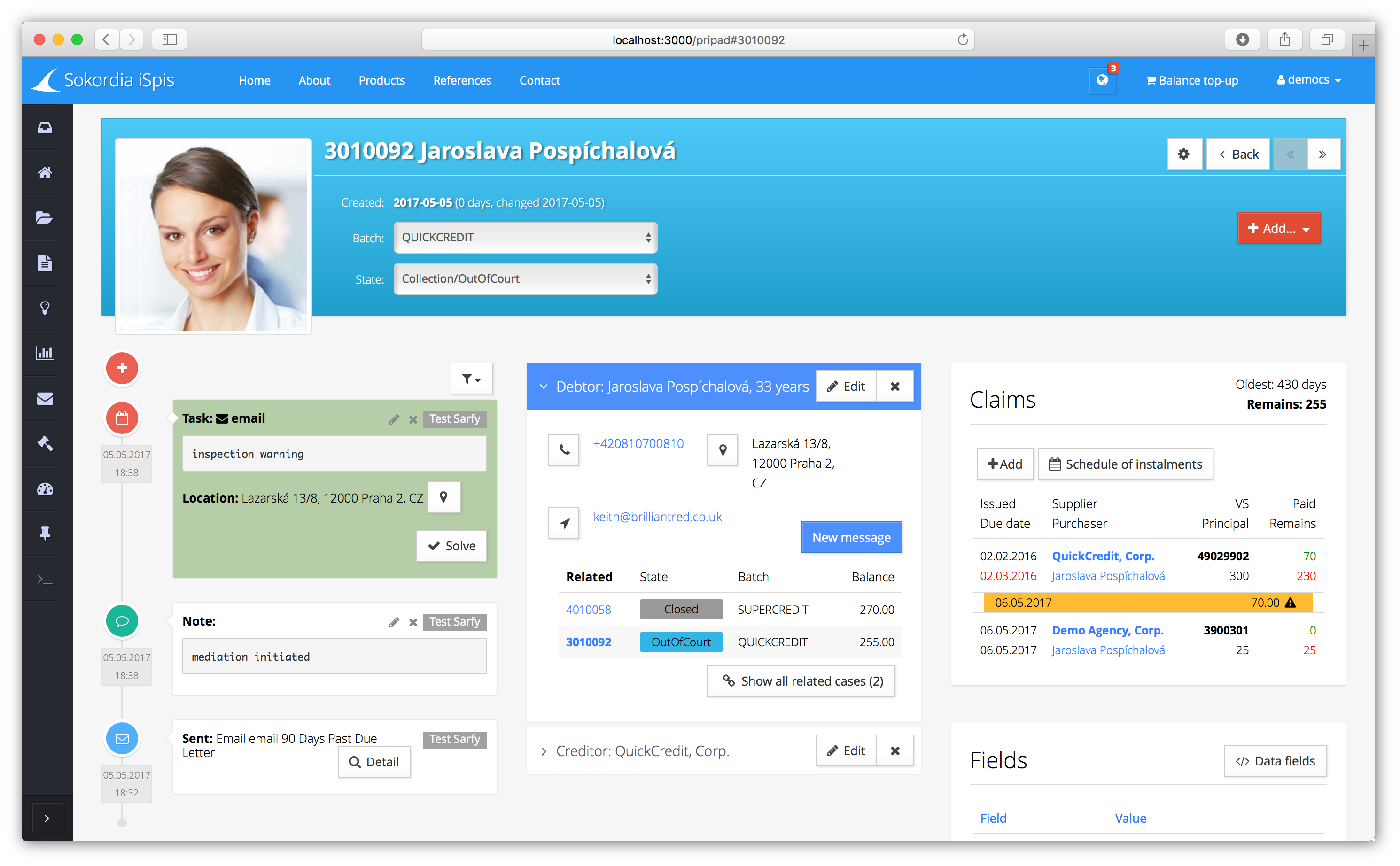 Debt Recovery
iSpis.com is a sophisticated and robust information system for debt recovery.
Several debt categories are supported – from a standard administration through out-of-court settlements to the court stage, as well as all processing steps:
import cases in bulk
send out pre-configured notices to debtors
pair payments received to your bank account
check instalment payments as per instalment schedules
generate tasks for call operators and supervise them
and many other features...
With an application easy to be configured, a component based module architecture and a flexible development model, we can offer an easily expandable solution perfectly matching your requirements, goal or business strategy.
Key benefits
supports all stages of debt administration and recovery
intuitive controls and numerous options to automatize individual steps
user-friendly set-up and communication template design
complete support of the court recovery stage (electronic payment orders, data messages)
other on-line services integrated (public databases, third party services)
modern modular architecture based on flexibility and scalability
reporting and tracking of key performance indicators in debt recovery
fully customizable business logic
System functionality
case recording: persons, tasks, debts, instalment schedules, payments
pairing: incoming payments, e-mails, phone calls, data messages
automatic and manual text messages, emails, and letters from templates
linked to phone switchboard and call operator management
tracks payments, sends out reminders, calculates
interest and debt collection costs
sophisticated scoring, skip tracing and screening in the national registers and databases
creates a prioritized plan of debtor contact attempts
property records, sends out notifications on changes in the Land Registry
ad-hoc statistical research of data and reports
notifies on changes in bankruptcy and court proceedings
Example of the case processing circle
In the first step, the system allows bulk import of all cases within a category through a MS Excel spreadsheet.
During this process, the case goes through several stages. These can be configured in detail in accordance with your business logic, however the default settings for out-of-court settlements include the following statuses:
Contact - confirmation of text message, e-mail and phone contact
Schedule - payment or instalment schedule has been agreed with debtor
Overdue - debtor hasn´t paid an instalment promised
Court - case forwarded to a solicitor for a court claim, the case category changes
Gathering Fraud Inspection Bankrupt - other possible statuses
Closed - case is returned to creditor, and moved from the system to archive
The system recognises the logic of individual statuses – for example, it automatically sends out preconfigured text messages and e-mails during the Contact stage; in the Instalment schedule stage, it checks all payments made and if unpaid, it automatically transfers the case to the Overdue stage (and generates a "call" task for call operators). The general logic of the system is based on your business needs and tailored precisely.
Based on data saved, the system further generates tasks for individual call operators ( as per their job description) and saves them in their to-do queues (the Inbox service). Call operators can clearly see every day what has to be done and solve the tasks in a correct order. This centralised space is designed for planned phone calls, unpaid instalments, incoming e-mails or text messages, incoming data messages from authorities, unpaired payments, bankruptcy proceedings, etc.
Your management can therefore oversee the work being done and the actual status of particular debt recovery stages.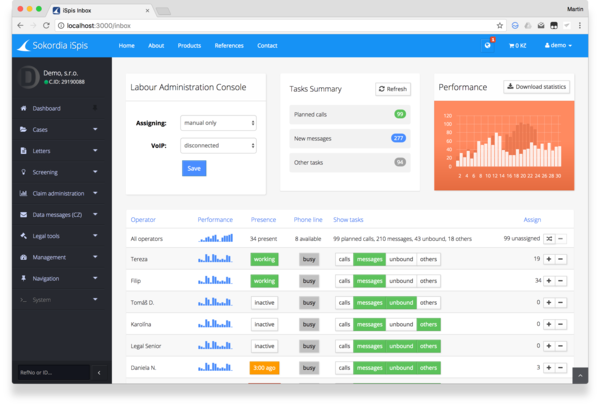 Out-of-court recovery
In the out-of-court stage, the system focuses on intensive communication with debtors, ensuring they meet their obligations, and to an effective work of call operators:
supports various kinds, stages and statuses of debt recovery, process workflow
linked to a phone switchboard as per pre-set parameters and priorities
sends out e-mails and text messages as per a specified template, checks delivery receipts
simply insert these details with a colored (yellow highlighted) name of the detail
supports mathematics, conditional expressions and repetitions in templates
automatically pairs incoming debtor e-mails
call-scripts for phone operators, responses recorded in a structured form
records tasks of various types and priorities, supports the processing of tasks
supports immediate phone call to debtor after a text message or e-mail has been delivered
chooses the next process step depending on how the debtor reacted to the previous step
Further, the system allows automatic import of incoming payments from bank accounts, payment pairing, records instalment schedules and checks due dates and allows linking to the court stage of debt recovery.
Debtor scoring
intelligently processes personal details, verifies addresses
de-duplicates persons and addresses, looks up identical contacts across cases
looks up persons in national public databases (Bankruptcy register, Land Register)
address scoring, databases of asylum homes, ghettoes, delivery addresses
looks up debtor profiles on Facebook, debtor photo and biography on file
bankruptcy monitoring
searches in Debt recovery agencies' notice boards
lists of persons wanted by Police, etc.
Communication channels
The system allows bulk and automatized communication with debtors by several channels:
Text messages: sent out through a chosen gate or our text sending service at very convenient rates and volume discounts.
E-mail: SendGrid or Google solution ensuring a very high throughput without e-mails being flagged as spam. Checks e-mail delivery and opening receipts.
Letters: Sends through the national post office service or other specialised companies, ensuring a comprehensive service of letter preparation, including color print and envelope inserting at minimal rates.
Telephone: Predictive dialling integrated, incoming and outgoing calls, call planning, pairing to cases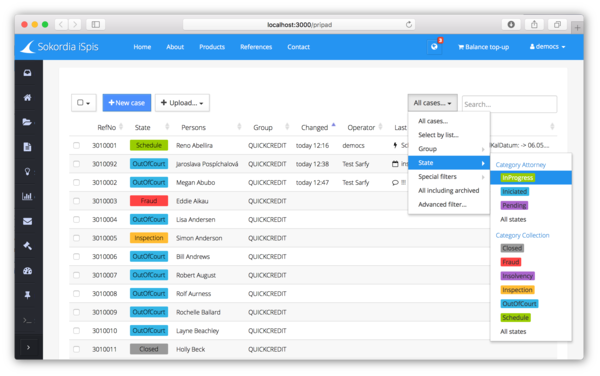 The court stage
Our service further includes a court recovery stage functionality.
a complete system for a modern solicitor file administration
sends out pre-court notifications, records postal receipts
generates bulk payment order motions based on templates
administration of incoming mail and official letters
automatically records scheduled court hearings to a calendar (including addresses)
generates enforcement motions, communicates with enforcement authorities